AGM 2008 report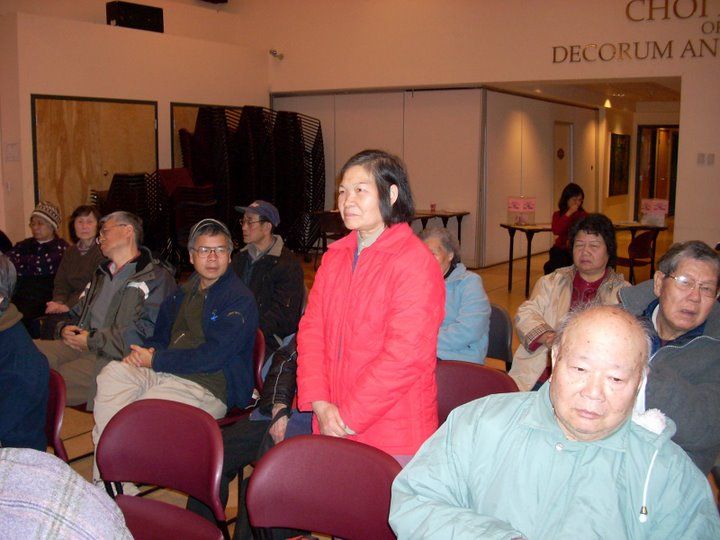 The Head Tax Families Society of Canada 2nd Annual General Meeting at SUCCESS Choi Hall - 11:00am Sunday November 30, 2008 with over 100 members attended. Sui Mei Tong did interpretation. Fairchild TV and Ming Pao covered and there were many video and still cameras present. Sing Tao also reported on the event based upon intervires with our directors.
Mary Chan presented an honouray lifetime membership in HTFSC to Reg Chow, a Notary Public with Jack Chow Insurance, who provided professional services without charge to surviving head tax payers and spouses of deceased head tax payers applying for the government's ex gratia payments.
Grace Schenkeveld did presentation to Fred Quon who accepted on behalf of Quon Lung Sai Tong, a clan association, which provided meeting space and logistical support during the dark days of October/November 2005 to oppose the then Liberal government's hated "no apology, no compensation" Agreement-in-Principle.
Sid Chow Tan did presentation to Kim Kerr who accepted on behalf of the Downtown Eastside Residents' Association (DERA) which provided meeting space and the use of a duplicating machine to HTFSC and its predecessor - the BC Coalition of Head Tax payers, Spouses and Descendants. DERA continues their support by providing HTFSC with a mailbox and phone message service.
After the presentation there was a short break and the business part of the AGM took place. It was quick and orderly. Agenda approval, acceptance of last AGM minutes along with Directors' and Financial Report. Six directors were aclaimed - Eric Dang, Phillip Chu, Foon Chang, Lily Lee, Mary Chan and Sid Tan. There are presently a full board of ten directors.
The AGM was completed by 12:30pm
Behind the certificates
Behind each certificate is at least one story. More often than not there are three or more. Join is here and in Behind the certificates pages for some of these stories.