Head Tax, the Redress movement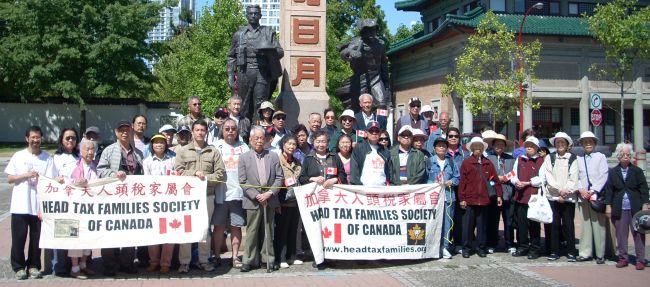 Canada Day Fourth Annual Chinatown Redress Rally
The Fourth Annual Canada Day Redress Rally organised by the Head Tax families Society of Canada featured hot dogs this year. Held at the Monument to Chinese Railway Workers and War Vets, the gathering reflected the needs of our elderly seniors who were concerned about keeping up in our walk around Chinatown. The organising committee decided on a hot dogs without the walk to keep the event inclusive and social. The event was a hit with participants tho getting the licenses were frustrating (but worth it). We are set to do this again in 2010 if we want, apply for celebration funding. It's now onward to orgaising the 2009 HTFSC Annual General Meeting in November and continued movement building.
Among the estimated 75+ people attending (included media) were Charlie Quan and a contingent of Quon Lung Sai Tong folks. Trevor Chan of No Luck Club was there with a video documentary and still photo crew from "We Stand on Guard for Thee", the Omni/Stitch Media production from Toronto. Sing Tao and Ming Pao dailies along with OmniTV Vancouver were the media I noted. Two MP's, Libby Davies (NDP) spoke and Ujjal Dosanjh (Liberal) came later while we were munching hot dogs.
We sang Oh Canada, lead by Trevor Chan and Sean Gunn. Had speeches by Libby Davies, Foon Chang. & Sid Chow Tan with interpretation by Fanny Chan.
We missed Gim Wong, Mrs. Suen and Mrs. Lee. Gim thru some miscommunication, Mrs. Suen is in Hawaii with family and Mrs. Lee is dealing with a health problem.
Video - Gim Wong the Song
Behind the certificates
Behind each certificate is at least one story. More often than not there are three or more. Join is here and in Behind the certificates pages for some of these stories.